Tips: public transportation in The Netherlands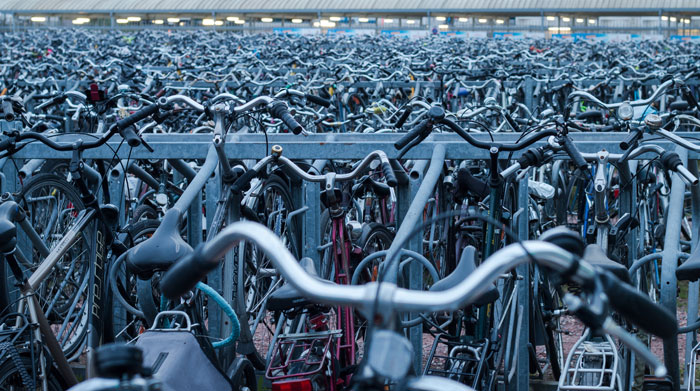 W hen you move to a new place, suddenly everything is so different; from the food to the language. Something that is very important and essential is your way of getting around – also known as transportation. Usually, you do not have a car as an exchange student, so how will you get around? Kamernet is here to inform you about all the ways it is common to travel from A to B in The Netherlands.
Bicycle
The most famous and well-known form of transportation in The Netherlands is the bicycle. It is said that there are more bikes than people in our country – so that's a whole lot. Our advice is to purchase a bicycle during you stay here. It is a one-time investment and you will experience any city that you are staying in just like a local.
The pros of cycling
You will fit in just like a local
It is actually cheap compared to other ways of transportation
You get to explore the city you are staying in and easily discover new places out of the usual Lonely Planet recommendations
Cycling will help you keep fit and healthy!
The cons of cycling
It might be cold at times, but other than that you're good
How to get a bicycle in The Netherlands?
You can buy a new bike in the store ranging from 100 euro and up. Buy your bicycle here and here online and have it ordered to your new address when you have arrived. You can also buy a bicycle second hand. This can also be arranged online, you should check out the website Marktplaats. It's the Amazon/Craigslist of The Netherlands and you can buy anything second hand for a good price.
Public transportation
In general, public transportation in The Netherlands is well arranged. The vehicles come on time, they are clean and are also safe. It is a reliable form of transportation. Holland is interconnected by a train rail system, which reaches the smaller towns as well as the large cities. In Amsterdam, Rotterdam and The Hague, you can take the metro (subway). The metro interconnects Rotterdam and The Hague as well. In other cities there are trams as well as busses that help you get to your destination. In most cities, one can also rent an OV-bike. This is a bike that you can rent for some hours or days and then return. So, even if you are in a foreign city, you can take a bike. If you want to go out and take the public transportation, it is well arranged as well. All cities have a night bus system, which you can take after a night out. The trains also have a special night system. You should keep in mind that the trains and busses in the night system don't come as frequently as the day system.
The pros of public transportation.
It is relatively cheap compared to a car. You can also buy a special subscription, which is much cheaper than single tickets each time
Students get a discount (and the government also provides free cards for students)
You can easily check if your train or bus is on time or at exactly what time it will leave via a reliable app, which is called 9292. You can check schedules, departure times, delays, but also the fastest route to a certain location or stop
All carriers require you to have one public transportation 'ticket' called the OV-chipcard. With such a card, you can travel with all carriers; just simply check in and out of each vehicle
The cons of public transportation
It can be very busy in the vehicles – fresh air might be nicer
In short:
So, how do you get around via public transportation in The Netherlands? You just download the 9292 app, put money on your OV-chip card en enjoy Holland.
Taxi
While in some countries it is very common to take a taxi, in Holland that's not the case. However, for those interested, we will provide you with some handy information. Students rarely use a taxi and if they do it might be at night, after a party, when they lost their bike or missed a bus. However, the taxi's in Holland are safe, clean and neat, so you can of course plan to take a taxi as well. The reason why student don't take taxi's is because the prices are very high, especially compared to the public transportation. The new service Uber is only available in some cities like Amsterdam, Rotterdam and The Hague, but Uber is also expanding soon.
The pros of public taxis
They are safe and reliable
If you are a car lover, you might like that most of the taxis are Mercedes or Tesla
All drivers are certified
The prices are fixed, so you know what to expect
The cons of taxis
It is really expensive for students
You cannot simply hail a cab like in the NYC movies. You must call and reserve a taxi
How do I get a taxi in The Netherlands?
If you want to take a taxi, for example on the train station, there is generally a special standing place for cabs. They are all in line, so you must take the first. If you are at home and you want a taxi, you should call the Taxi Centrale. To find your local Taxi Centrale, you can Google Taxi Centrale [city name]. This way, you will find the one closest to you. Finally, you can recognize Dutch taxis by their blue license plate.
Final thoughts
These options are the most common in the Netherlands. We also advise you to simply walk sometimes from one location to another if you have the time. It will give you more time to process the beauty of The Netherlands and is also good for you health!