What kind of housing should I pick for my stay in The Netherlands?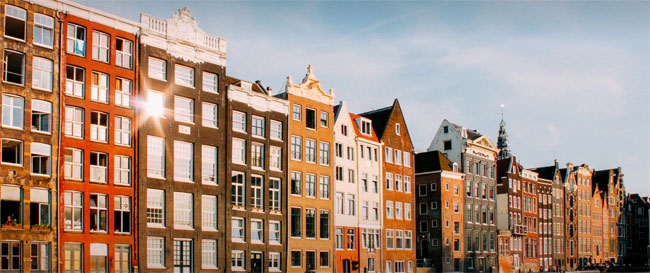 I f you are going on exchange or have an internship in The Netherlands, you will need new place during your stay. You have a lot of options, but it is important to consider which option matches your personal situation the best. To help you with your upcoming decision on housing in the Netherlands, we listed all the forms of (student) housing below!
Housing on campus
This is not a very common or popular option amongst local Dutch students, but there is always some sort or form of student housing available on or near campus. This is usually reserved for students who live at least a 2-hour traveling distance from campus, thus, also for foreign exchange students. It is a nice and easy way to spend a lot of time on campus but also meet new people who live in the same building. Not all universities offer this option, the Erasmus University of Rotterdam and the University of Utrecht do offer the option. Check out the websites of the universities to apply for their campus-housing program.
A full apartment or studio
If you like to have personal space, your own apartment or studio is an ideal option. The local students usually share apartments, which will be discussed below, but for foreigners the option is more appealing. The reason that local students don't rent full apartments is because it can get quite expensive, especially in cities like The Hague, Rotterdam, Utrecht or Amsterdam. However, in other cities, the costs are far more affordable and the option is more realistic. Click further for a studio in The Netherlands or an apartment in The Netherlands
Shared housing
The most common accommodation for Dutch students is shared housing. With this option, two, three, four or more students share a large apartment. Each has their own room and the kitchen and bathrooms are shared. The nice part is that the inhabitants of the house rotate a lot, as students here also go abroad or finish studying. It is also a nice way to meet new people and not be lonely during your stay in a foreign country. If you would like to find a room in The Netherlands for shared housing, check out Kamernet!
Living with a landlady or landlord
This might sound like a strange option, but it can be better than you think. You can live with a person who has a lot of space, is not home often times or simply likes some company. Usually, the rent is also less than any other form of housing and is generally more luxurious and clean! The advantage is that you will not live alone and you will have a trusted, experienced person in the house or nearby. It is important that you make clear agreements with the landlady or landlord.
Student corps houses and fraternities/sororities
Another popular option is to join a fraternity or sorority, otherwise known as a student corps. It is a nice way to meet a bunch of people and spend a lot of time with them. The houses usually have a lot of required fun activities, which do take up a lot of time, so you have to decide if you want to invest the time. There corps can be found in nearly every city that has a school or university or campus.