Biggest celebrations and festivals in the Netherlands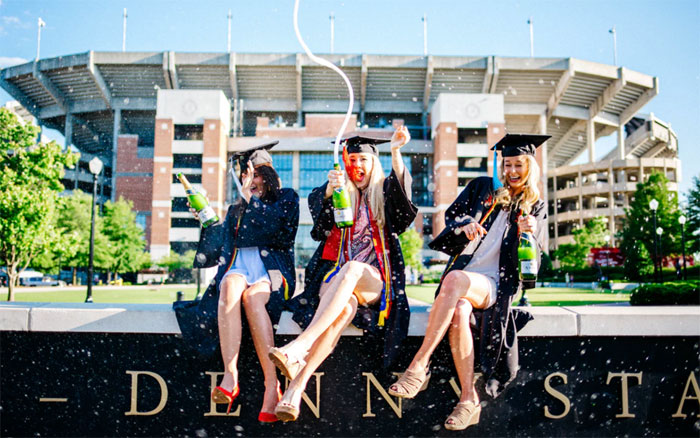 I n the Netherlands we take every chance to build a party and drink a beer with each other. Throughout the whole year we celebrate different things. Here is a list of all the days the Dutch students are partying. Now you will not miss a single day.
Music festivals in summer
Summer is the moment all Dutch students start partying at festivals. Festivals are very popular in the Netherlands. Every weekend there are festivals in different genres. Consider moving earlier to the Netherlands for the festivals season, you won't regret it! Whether it is for the perfect DJ's, the experience or just to meet new people, it is also a nice trip for you to experience with your new housemates! If you want to have a look at all the festivals in the Netherlands, you should check Yellowtipi. Here you can also find the big festivals. Don't know which festival you should pick? Then go to the most popular ones.
One of the biggest festivals is Lowlands. Nowadays Lowlands has different kinds of music. They go from DJ's to big artists and even bands. Some examples of big artists at Lowlands are Mumford & sons, Clark and Jonna Fraser. The ticket for Lowlands includes the festival ticket for three days, a place for your tent and a bus ticket. Another big festival is Milkshake festival. This festival is for people who are very open minded. Meeting new people is very easy here. Never celebrated carnival before? Then you could go to the Summer Carnival in Rotterdam. There will be more than 60 acts from all over the world. Would you like to see the best Dutch DJ's? Then go to Flying Dutch. Flying Dutch is a festival with three locations through the country. Every DJ performs one hour at a place and goes to the next one by helicopter. We Dutch people are very proud of our DJ's so now you could see all of them in one day!
But how do you get a ticket? On Ticketmaster there are tickets available for festivals, concerts and many more. Unfortunately, sometimes tickets are sold out. But then you can try the safe website Ticketswap. On this website a lot of people offer tickets if they are not going anymore.
Do you prefer free festivals? There are plenty of them in the whole country. Paaspop festival and Appelpop festivals are free. They both have different genres. From pop to techno to R&B. Another free festival is Appelpop. Paaspop is during Easter and Appelpop is always in the first week of September.
Food festivals
Students love music but they also love food. Food festivals are perfect to try new food and to meet new friends. Food festivals are becoming more popular in the Netherlands. You could go to different festivals with different types of food. For example, you could go to a festival where they only offer sushi. Through the whole year there are food festival events. So do not worry when you miss one. There will be plenty.
Carnival at the end of February
Carnival is a whole week at the end of February. Every student dresses up as something crazy, funny or beautiful. Carnival is mostly in the south of the Netherlands. Partying in the north is also nice but if you want to experience the real Carnival you should definitely go to the south. There is no specific type of costume for Carnival, you are free to choose your own. Some housemates have matching clothes, like the whole Mario gang. Be original!
Kingsday April 27th
A couple of years ago Kingsday was called Queen's Day because we celebrated the birthday of Queen Juliana on April 30th. Nowadays we celebrate King Willem-Alexander's birthday on April 27th. Some websites did not update their information so it is important to be properly informed. Up to two years after the change, a lot of tourists came to the Netherlands all dressed up for Queen's Day, only to find out that they were two days late. This day it is important that you wear red, white, blue, or even better: Orange. These are the colours of the Netherlands. You could go out the night before. There are parties in clubs. During the day there are festivals, parties and markets in the whole country. At these markets people can buy stuff people are selling. The prices are very low then. You can buy or sell whatever you want. Maybe some people sell their furniture and you can get some for your new room!
May 5th
On May 5th there are also a lot of festivals. This day, Dutchies celebrate their freedom after World War II. There are (free!) festivals and other parties in every student city. Lots of students go to the park to have a beer and enjoy the bands. So take your blanket and enjoy the music. The biggest festival this day is 'Bevrijdingspop' in Haarlem.
Sinterklaas on December 5th
Sinterklaas is a perfect excuse for Dutch student to ask some present from their parents. It is a feast for little children but everyone celebrates it. Dutch students also play the game 'surprise'. This is nice to do with your housemates. Everyone picks a card with the name of one of their friends. You should not tell them whom you picked, it is like secret Santa. On the card are some things written this person wants. You could buy these things for him or her or you could buy something else. Buying presents is not enough. You should make something for them and write a poem. The poem can be nice, funny or even sarcastic. It is your poem so you can be creative in what you want to write.
New Year's Eve
Just like everywhere in the country, we celebrate New Year's Eve. But we have some difference, like the food, fireworks and other stuff. These traditions of the Dutch are very funny to try. This night there are also a lot of parties in the Netherlands. There are some open and free parties in the big cities. Everyone is together and there is some big fireworks. So now you know all the big feasts during the year in the Netherlands. Try to celebrate all of them and to try new things. You could go with your new housemates, colleagues or friends at school. Enjoy!