Antonia Veerstraat, Delft
Added 7 weeks ago
THE ADVERT IS NO LONGER ACTIVE
Studio
Available per 09-08-2017
An alert will be created with the following settings:
Delft + 2km, from 29m2, for max. €626
An alert will keep you notified when a new advert is posted that meets the requirements. You can view and edit your alerts on the
Alerts page
.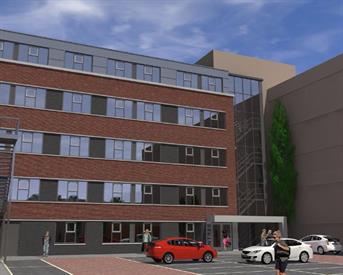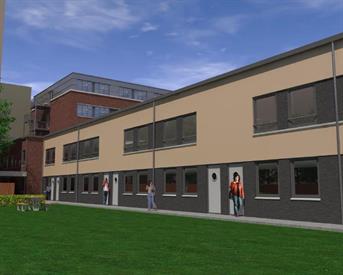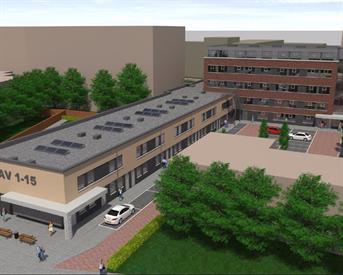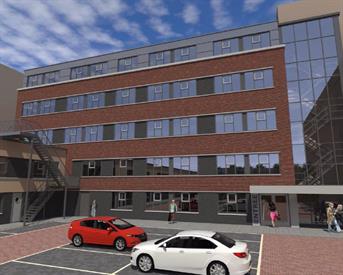 Description
Studio's met mogelijkheid tot huurtoeslag in Delft
Studio's met mogelijkheid tot huurtoeslag in Delft
Unknown
Aan de Antonia Veerstraat in het zuidwesten van Delft realiseert ***118 zelfstandige studio's voor alle doelgroepen. De Antonia Veerstraat ligt hemelsbreed op 1000 meter afstand van het centraal station en de TU campus. In 5 minuten ben je op de fiets op één van beide locaties. In 2 aaneengesloten gebouwen, worden 118 zelfstandige gerealiseerd en hoogwaardig afgewerkt. De oplevering vind plaats in week 30 (vanaf 24 juli 2017).

De studio's hebben een afmeting van 29 tot en met 64 vierkante meter. Het complex heeft een eigen wasserette (tegen gunstig tarief), maar de grotere studio's beschikken ook over een eigen aansluitmogelijkheid voor wasmachine en droger en hebben tevens een eigen meterkast. Daarnaast is er een fietsenstalling, gemeenschappelijke buitenruimte en 34 parkeerplaatsen op eigen terrein die los bij te huren zijn. Verder is het complex voorzien van een elektronisch toegangscontrolesysteem. In het gebouw is een lift aanwezig.

Om het proces zo snel mogelijk te laten verlopen vragen wij om je telefonnummer achter te laten in je reactie. Wij zullen dan zo snel mogelijk contact met je opnemen.

Please leave your phone number so we can contact you as soon as possible
Residence details
Smoking inside
Unknown
Toilet
Unknown
Pets
Unknown
Energy label
Unknown
Internet
Unknown
Gender
Unknown
Roommates
Unknown
Deposit
Unknown
Living room
Unknown
Registration costs
Unknown
Kitchen
Unknown
Additional costs
Unknown
Shower
Unknown
Extra costs description
Unknown
Room
You can still smell the fresh paint! This studenthouse is brand new on the market. We've painted all the walls, cleaned the whole house and improved whatever needed to be improved! This means that your future room and the communal living room, kitchen and garden feels like home from the moment you enter the house. You are free to furnish it the way you like! Make it yours! Together with your friends And then there's this... You can decide who you're going to share this house with! Find three or four (female!) friends who are also looking for a new/different home in Delft and perhaps you can experience a great student time from this house together. The rooms There is a communal garden at the house, a rear with a barn and of course a shared living room, kitchen and bathroom. There are five (bed)rooms; some bigger, some smaller. The way you divide these rooms is up to you. Prices per room range from 300 to 500 euro excluding gass/water/light per month. You cycle within ten minutes to the centre of Delft, it will take you 15 minutes to the TU campus. Supermarket en public transport is available around the corner. Construction work and sneak preview The construction work will start next week. A sneak preview visit is possible from the first week of October. You can call this house your home from Monday 16th of October. IMPORTANT! THE PICTURES ARE MADE BEFORE THE CONSTRUCTION WORK.
Sint Sebastiaansbrug
Delft
Added 4 days ago
Room
18-09-'17 - 01-01-'18
Room
Beste kamerzoekende, Ik ga zelf voor een klein halfjaar ergens anders wonen en verhuur mijn kamer voor die periode dus! Het huis bestaat uit 9 studenten (4m en 5v) van verschillende verenigingen in Delft (Toko, Zaak, Proteus, Laga, Punch, etc.) en is zeker niet vies van een feestje. Daarnaast eten we vaak samen (toetje = verplicht!), drinken we thee + koekjes, kijken we films of gaan we met zijn allen knallen in de UB (ook punten moeten worden binnengehaald). Wij zijn op zoek naar iemand die zich wel thuis voelt in deze beschrijving en het leuk vindt om actief bij het huis betrokken te zijn! Over de kamer zelf: het is een ontzettend ruime kamer met eigen balkonnetje, inclusief mega kledingkast, bed, bureau, bank, in een gezellig maar netjes huis. Geïnteresseerd? Stuur vooral een mailtje
How it works
View all adverts
Upgrade to Premium
Send unlimited messages